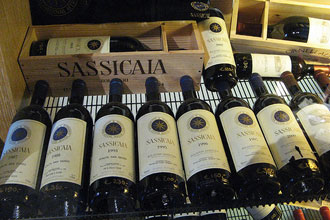 "Apart from Florence" because the city itself is, in my humble opinion, an excellent reason to visit Tuscany. But, of course, it's not the only one…let's be inspired by these five!
Collodi
Your kids will thank you for a long time, if you bring them to visit the city of Pinocchio! Collodi is the city where Carlo Lorenzini (pseudonym: Carlo Collodi) spent his childhood. The city hosts the wonderful Park of Pinocchio, where you can experience the fairy tale and enjoy the union among art and nature. In the Park of Pinocchio, conceived like theme park for children's education, you will take a picture with the Cat and the Fox, watch the puppet theatre, or play the Pinocchio's game of the Goose!
Cacciucco alla livornese (Livorno-style)
It is a fish stew typical of Livorno. Cacciucco is traditionally made with fishes of little value: the original recipe counts 13 kinds among fishes and shellfishes (cuttlefishes, crayfishes, octopuses, moray eels…). The fishes are cooked with tomato sauce and served over a few slices of toasted Tuscan bread put down on the bottom of the plate.
Carrara quarries
The marble of Carrara is universally known for being one of the most precious. The tour of the caves transports you in a lunar setting: about 30 minutes to discover this wonderful place, chosen by Maserati and Lamborghini to present their Autos. Immersed in a totally white scenario, almost unreal, you'll learn the secrets of the extraction and the cutting of the marble.
Sassicaia
Less popular than Chianti, Sassicaia is one of the most popular and prestigious Italian wines. It is a red DOC wine (Controlled Origin Denomination). You can't miss tasting it, especially if you're in the Province of Livorno, the production area. Try it with game or with some strong flavour cheese!
Skiing in Abetone
Small municipality with less than 700 inhabitants, Abetone is a popular holiday destination. Its 50 Km slopes at about 1.400 meters altitude are very appreciated from ski lovers. Abetone is also a beloved summer resort destination because of the possibilities of wanderings in the beautiful mountains, tennis, soccer, horse riding and mountain bike excursions. Not less important, the charming medieval villages and the delicious local cuisine.