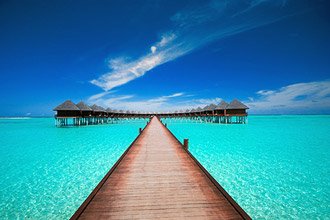 It's a fact that grey skies and plummeting temperatures are enough to cause depression. Seasonal Affective Disorder or SAD, as it has become known, is recognised by the medical world as a very real and not uncommon form of depression brought about by the lack of sunshine.
While this may not always be a serious condition requiring time off work and some form of counselling or psychotherapy, it can nevertheless affect our mood and general well-being.
So as an antidote to the winter blues, why not consider shunning those thermal vests and duffle coats, in exchange for some of that lovely winter sunshine?
It doesn't get much lovelier than the Maldive Islands, the double chain of 26 atolls situated in the Indian Ocean. These magical islands form the smallest country in Asia in terms of both its population and land mass. And, of course, being tropical, the temperature never really falls below 24C (75F).
If you really want to treat yourself, check into The Conrad Maldives Rangali Island Hotel. This has to be the closest thing to paradise on earth. The hotel spans two exotic islands, Rangali and Ranglifinolhu, which are linked by a 500-metre footbridge across a crystal clear turquoise lagoon.
Once you arrive here by seaplane, you'll be shown to your luxury villa. There are 150 in total, and you can select a Water, Beach or Spa Villa. All have spectacular sea views, outside terraces, air conditioning, walk-in wardrobes and stunning open air bathrooms with rainwater showers.
Opt for one of the 44 Deluxe Beach Villas and you'll also have your own walled garden and personal plunge pool, along with a private courtyard and bathing pavilion – not to mention extra living space.
Alternatively, go for one of the two Sunset Water Villas and you'll have a glass floored living room, circular rotating bed, a wrap-around sun-deck and a butler service thrown in for good measure.
If you're not inclined to just chill out and soak up the atmosphere, there are plenty of activities on offer including a lovely outdoor pool, tennis courts, gym, billiards, beach volleyball, diving, water skiing, aerobics, pilates and yoga.
You may, of course, want to take a peek into these warm tropical waters of the Indian Ocean, in which case take yourself over to the Diving Centre where you'll be able to swim among shoals of the most spectacularly coloured tropical fish – not to mention corals, turtles and rays.
In addition, there are two spa facilities providing holistic therapies and various treatments, along with steam rooms, saunas and jet baths.
And when it comes to food and drink, you have the choice of seven dining areas as well as private beach barbecues, and there are three bars.
Those of you who can't cut yourself off from the real world for longer than a few minutes will be reassured that wireless internet can be enjoyed even here. In fact, Water Villa guests have complimentary use of this.
But most people who come here will be more than happy to leave the real world behind them, and to be honest, it's not difficult, once you're here, to see why.