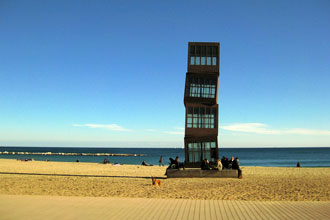 Barcelona consistently ranks well when compared to both other European and worldwide cities. It has been ranked the 16th most liveable city in the world, the 13th most innovative city, and is the 7th most important fashion capital in the world. All of this combines to make Barcelona the 16th most visited city in the world, and 4th most visited city in Europe. The city boasts a rich historical past and a strong cultural centre that draws tourists from all over the world. But Barcelona, located on the shores of the majestic Mediterranean, also boasts some of the world's best beaches. In fact in 2011 National Geographic rated Barcelona as having the best urban beach in the world.
Barcelona coastline consists of 9 beaches that stretch 5 km from Barcelona's Harbour to the Port Forum marina. Despite the 5km of beautiful beaches, it wasn't until 1992 that Barcelona's coastline became an attraction. Previously, Barcelona's waterfront had been an industrial area. In preparation for the 1992 Olympic Games held in Barcelona, the beachfront areas were cleaned, revamped and reconstructed for public use. Since then, they remain one of the city's best assets.
Which beach should I choose?
There are 9 beaches to choose from:
Sant Sebastià beach
Sant Miquel beach
Somorrostro beach
Barceloneta beach
Nova Icària beach
Bogatell beach
La Mar Bella beach
La Nova Mar Bella beach
Llevant beach
The busiest beaches are Sant Sebastià and Barceloneta, located closest to the city centre. These beaches are popular with locals and tourists, but also cater to the student and backpacker crowd. If you're looking for a more tranquil beach scene, head to the northern beaches, which are favoured by the locals and have cleaner sand. Mar Bella beach is Barcelona's official nudist beach (although nudism is not compulsory!)
When you're on the beach, you can grab snacks, drinks and meals from the "chiringuitos" or beach bars. They also often host beach parties and are open until late.
When is the best time to visit Barcelona's beaches?
The best time to visit Barcelona's beaches is between April and September when the weather and the water is warm. In the winter, the beach bars and lifesaving services are usually not in operation.
How do I get there?
Barcelona's beaches are conveniently located close to the city centre, making it easy for visitors to get there from Barcelona hotels. It takes approximately 10-20 minutes on public transport. All of Barcelona's beaches are located on the Yellow Metro Line L4.
So if you're in Barcelona, make sure you spend some time on the city's beaches and experience first hand the world's 'Best urban beach'!
Related articles