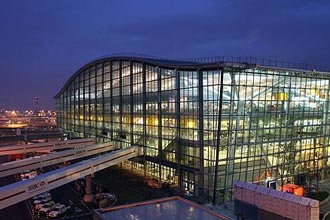 Many travelers planning a trip to London will have an important question to consider when booking their tickets – should I fly into Gatwick or Heathrow airport?
Of London's 5 airports, Gatwick and Heathrow are the two largest and busiest, with thousands of passengers arriving and departing each day. Most international carriers and international flights to and from London operate out of these terminals. So which airport should you choose when you fly into or out of London?
If you have a choice of the two, there are a number of factors to consider. Here is some basic information on each airport to help you determine which airport is best suited to your holiday and travel needs.
Heathrow Airport
Heathrow is located 15 miles west of Central London, and is the world's busiest international airport.
Two Piccadilly Line tube stations serve the airport – the underground tube is the cheapest way to get to or from all London airports.
Travelers can also choose from two train services – the Heathrow Connect and the Heathrow Express. There are also National Express buses to deliver passengers to and from London.
If you'd like to drive to the airport there is also a range of Heathrow airport parking options to choose from – long stay, short stay, business, valet as well as a number of pick up and drop off zones.
Gatwick airport
Gatwick is located 30 miles south of Central London, and is widely regarded as smaller and better organised than Heathrow.
An efficient monorail makes the 2-minute journey between the two terminals.
The Gatwick Express links the South Terminal with Victoria. It's a non-stop 30 minute journey that runs every 15 minutes.
Southern Trains also run services to Victoria via East Croydon and Clapham Junction, leaving four times an hour.
easyBus is another transport option, offering low-cost frequent airport transfer service non-stop from London and Gatwick with prices from £2. Buses depart every 15 minutes at peak times and run throughout the day and night from both North and South terminals to Earls Court/West Brompton in central London.
If you want to drive to the airport, there are a number of Gatwick airport parking options to choose from – whether you need a short or longer term arrangements.
Frequent flyers are divided on their preference for Heathrow or Gatwick. For many, the advantage of choosing Heathrow is that you can buy a travel card at the airport to cover you for your entire London trip. For others, Gatwick's smaller size and better organisation makes it easier to navigate. It often takes less time to clear customs at Gatwick than Heathrow, making it a quick and hassle-free airport experience.
If you're flying into or out of London, consider which airport better suits you. Remember, if you are travelling through both terminals, Gatwick and Heathrow are 40 miles apart, so make sure you give yourself at least a 2 hour connection time to make the trip between the two.
What's your preference? Gatwick or Heathrow?