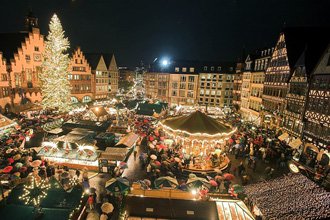 Where would you go if you suddenly realised you had no commitments at Christmas?
Christmas is one of those occasions a lot of us have a love hate relationship with. On the one hand, if you love your family very much and they all get along and are all available for a Christmas knees up, staying home can be the answer. But what if your parents have decided they quite fancy jetting off to Bermuda for Christmas, or you really cannot stand one more inappropriate joke around the dinner table with that uncle/aunt/ lonely neighbour? If any of those are true, sack it off this year with the fam and head out on a last minute get away. If you think about it, you'll be saving on the stress of booking the year before, or of deciding where you want to go and finding out the prices are just too high peak season. Get a deal with a hotel that had last minute drop-outs and will give you a good price. You could even make it a hot Christmas and head out to Oz for a barbie on the beach.
Some of the greatest places are those that really go all out so you don't have to. Just follow the throng of excited locals in full costume on their way to the local church. Top Catholic countries that go all out are as follows;
Celebrations in Spain go from 22nd December all the way to 6th January. In fact, 6th January is the most jubilant part of the whole period, as this is when Los Reyos Magos go on parade. Three men dressed as the three kings, or wise men, in each city or town parade through the streets throwing sweets out to the crowd. This is to mimic the gift giving that would have taken place between the wise men and the baby Jesus.
In Mexico, the Posadas take place in the nine days leading up to Christmas Eve. The Posadas are re-enactments of the quest of Mary and Joseph to find somewhere to stay where Jesus could be born. The most prominent decoration in a Mexican home is therefore the nativity scene, trumping even the lowly Christmas tree. Over those nine days, different characters are added as they appear in the Nativity story to the Nativity scene in everyone's houses, with Jesus being placed there on the last night. On Christmas Eve, Mexicans have dinner with their family. Christmas day is much quieter. Epiphany on 6th January is also celebrated as it is in Spain.
Goa was colonised by the Portuguese in the early 1500s and is the only Roman Catholic state in India today. As such, Christmas is a recognised holiday. Many Goans attend Mass, and buildings are decorated inside and out so you know it's Christmas, even if you are eating fresh papaya on the beach before a dip in the warm tropical sea. Ask around and you'll even be able to find somewhere to have Christmas lunch on the day.
Elijah is a travel writer who once went on a carefully planned out Christmas tour of the world and is thankful that not everyone celebrates Christmas just on 25th December.