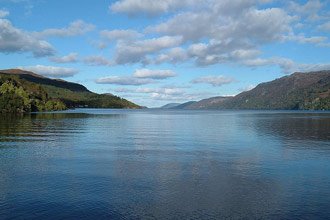 Whether you're a sucker for legends or have kids who are excited at the prospect of a Nessie sighting, it would be remiss to take a trip to Scotland without a visit to the infamous Loch Ness. Home to the legendary Loch Ness monster, Loch Ness is firmly etched into our imaginations as the mysterious home of the world's most famous monster. But mysterious sea creature sightings aside, there are a number of other attractions in the Loch Ness area. If you want to include a stop at Loch Ness on your Scottish holiday itinerary, or spend some time exploring this area, here is some more detailed information on what you can expect.
Where is Loch Ness?
Loch Ness covers the area from Inverness in the north and follows the length of the rugged shoreline to Fort Augustus in the South. Loch Ness is included in Scotland's Southern Highlands region (or Lakes District due to the number of lochs in the area). The northern end of the loch is within easy distance of the region's capital, Inverness. The loch itself is surrounded by unspoiled heather moors, tumbling waterfalls, craggy hills and dense forests.
What are the attractions of the area?
Apart from staking out your viewing platform for your sightings of Nessie, there are a number of other attractions in this picturesque area. These include:
• Day and overnight cruises on the Loch Ness
• Rock climbing on the craggy hills
• Walking and hiking through the untouched forests
• Deer spotting to see the Red Deer in their natural environment
• Golf at a number of world class golf courses in the area
• A range of water sports on the Loch.
• And of course you can't leave without a visit to the region's tribute to its shy monster – the Loch Ness Monster Exhibition.
Accommodation options
Depending on what holiday type you are looking for, there is a range of accommodation to suit your holiday needs and styles, from fully inclusive hotels to quaint B&Bs to self contained cottages. If you like a bit of hustle and bustle, Inverness has a number of hotels and guesthouses to choose from. If you want to escape the crowds, the small and quiet villages of South Loch Ness offer secluded accommodation nestled away in the beautiful scenery. Try Dores Village or Inverfarigaig.
The Loch Ness monster was first brought to the world's attention in 1933 – since then, the Loch has been a Mecca for those keen to glimpse this mysterious creature. But don't let the myth overshadow the other attractions and natural beauty of the area. When planning trips to Scotland, make sure you include Loch Ness and its surrounds on your itinerary.