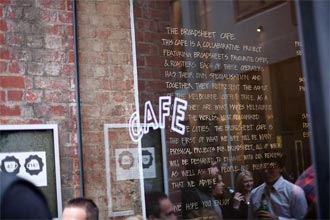 With its artistic crown and cosmopolitan atmosphere, it is no surprise that the city of Melbourne in Victoria is the capital of Aussie cafe culture. Indeed this is a city that prides itself of the mix of commerce and socialising that is the coffee shop to such an extent that when international interlopers Starbucks attempted their usual invasion they were forced into an unceremonious retreat closing all but four stores as locals remained loyal to existing concerns that had something a little more exciting to offer.
Melbourne More than Just Cafe Culture
But Melbourne is more than just coffee shops, with its rich cultural history and strong sense of identity; it is also arguably the foodie capital of the country as well. Why is this? You may ask, the answer is simple – Melbourne's food scene is built out of a diverse and exciting community that are unrivalled in their support of the local food scene.
With the city's gastro reputation having been staked in the 60s and 70s by those arriving from the food loving nations of Greece and Italy, it further entrenched come the late 80s and 90s when new inhabitants flocked to the area from the Orient, bringing with them the gastronomic traditions of countries such as Vietnam, China and Japan.
Victorian Capital offers World Food at its Best
Whatever you prefer to see on your plate, you can guarantee there is a place in Melbourne that will deliver- from the Aussie staple of meat pie and potatoes to something a little more swish this foodie city has it all. Great restaurants in Melbourne that are well worth a visit include:
Grossi Florentinos – situated on Melbourne's Bourke Street, this Italian establishment has been wowing diners for almost a century and offers a choice of dining experiences tailored to tastes and timeframes; choose from the formal upstairs restaurant, the ground floor grill or head down to the cellar bar for something a little less formal.
The Flower Drum – set in the heart of the city's Chinatown The Flower Drum is a wonderful example of fine dining Cantonese style.
Takumi – Another Bourke Street eatery, this time offering diners a little eastern promise, Takumi offers an authentic Japanese menu featuring delights from the sumibi yakiniku smokeless charcoal grill.
Movida – this Flinders Street eastablishment is the home of Spanish tapas in the city and is a great place to eat and socialize with friends and family. Billing itself as "The Spirit of Spain in the Heart of Melbourne" Movida offers a great selection of traditional Spanish cooking from gambas to albondigas and pulpo to pollo!
Food Culture Makes Melbourne Mouthwatering!
Restaurants and eateries are everywhere in the city and the locals know what they like, meaning that only the best establishments are left standing, whatever the style of cooking. Visitors can find food for any budget – the city is not all fine dining and is, after all, the global home of piri-piri chicken chain Nandos, with suburban dining rooms offering stiff competition for some in the centre at prices that travellers will find appealing.