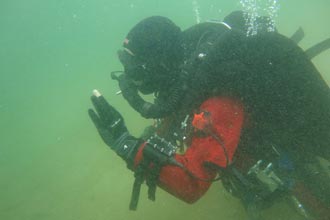 Many divers of the world are drawn to colourful corals and crystal clear waters. While Scotland might not fit this description, it offers an array of experiences for divers keen to explore the underwater wonderlands of the often wild and woolly Scottish coastline.
Scotland offers some of the world's best wreck diving in the Scapa Flow. And, off the East Coast, there are still many wrecks that are yet to be discovered. Add to the mix Scotland's underwater cliffs, reefs and drifts and you have a unique diving destination.
If you haven't yet discovered Scotland by sea, here are some quick dive facts.
What kind of sea life can I expect to see?
Scotland's waters are home to porpoises, dolphins and whales. The West Coast is also the best place to see basking sharks.
Scotland's climate is pretty cool, how cold will the water be?
Between January and March water temperatures range from about 4° C, and can reach up to 13° C from July to September. Divers will be most comfortable in a dry suit with a warm undersuit throughout the whole year. The water is at its coldest between January and February/ July and August are the warmest months. Weather permitting diving is possible year round. It is essential, however, that divers check tidal currents, which can create dangerous conditions.
Where is visibility best?
Generally the visibility is best on Scotland's West Coast.
What are some notable dive sites that I should add to my list?
Scapa Flow is a haven for wreck divers. Many ships have me their fates here, and now offer amazing wreck diving experiences. Wrecks include SMS Dresden, the SMS Kronprinz Wilhelm, the SMS Brummer and the SMS Konig.
Head to St Abbs to explore the rocky islets of Scotland's only marine reserve – The Eyemouth Nature Reserve.
Ullapool is also home to famous wreck sites and Conservation (or Cathedral) Cave.
On the west coast at the port of Oban, divers will experience some of Europe's best diving around the islands and inlets of the Inner Hebrides. Excellent visibility and rich and plentiful marine life makes this a 'must dive' destination. This area is also suitable for both beginner and intermediate divers due to the sheltered nature of most sites.
Scotland is a unique dive destination. Whether you fly into Glasgow or Edinburgh airport, parking options and rental car options abound. Load up your car and head off to explore all that Scotland underwater has to offer. If you fly into Glasgow airport, parking and car rental options are also available.