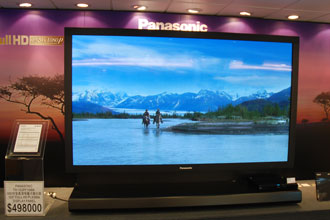 Sogo situated at 555 Hennessy Road in Causeway Bay started trading in 1985. It is the largest department store in Hong Kong with over 400,000 square foot of goods. The store has 15 floors for you and me, and if you are a shopaholic and have Sogo membership you have an additional 4 private floors just for the premium few.
We spent a while in Sogo, obviously not buying anything as it is also one of the most expensive shops to buy anything from, and you can't haggle. That is something you have to do as everything starts more than double the real value. I can't remember how much the above 103″ Plasma screen costs but I'm sure it's more than the average yearly salary of most people.
After spending a few hours in the store trying to find all sorts of goods we took some time out and tried out the $40,000 massage chairs… Amazing.