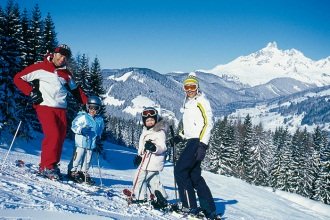 Whilst Christmas may be at an end and the New Year is regrettably well under way many of us are still thinking about a skiing holiday this Easter and hoping we can cram in a few days of winter fun in the middle of the all too short school holidays. Skiing with the family is always well worth the added hassle if your kids are anything like mine they get more excited than I do – which is saying something as skiing always makes me excited! With many people as yet un-booked for an Easter holiday and as this year's school season seemed to make it next to impossible to find a good time to go away I decided to offer some useful tips on planning a family skiing holiday and making sure everything goes off without a hitch.
First things first are the obligatory bookings and choosing a destination that is going to cater to everyone's skill levels whilst still providing plenty of extra-snow family activities. Findings from a recent online survey showed there are a wide range of resorts around the world that cater much more to the family crowd with many of the best to be found in the Alps (unsurprisingly of course) and in The Rockies. Resorts like Tignes and those around Banff and Jasper offer some particularly well suited slopes for families as well as a variety of levels of instruction for all levels of the family skier. I always think that choosing a suitable resort is one of the most important things in a family skiing holiday and, whilst it's tempting, I tend to avoid the more budget destinations and resorts as they are crammed full of young drunk and loud people (most of whom regretfully seem to be from the UK). If you can find a decent resort that has plenty of opportunities for other activities such as sledging or ice skating then you're going to have plenty of time for other activities off the slopes. Also you need to consider the evening's entertainment and try and choose somewhere that offers opportunities for light entertainment – films, TV the basics etc. This helps prevent that age old phrase "I'm bored" – though how even a child can get bored surrounded by snow is beyond me.
Anyway once you've made the most important decision its then time to worry about all the other little details. Having everything sorted long before you go really does cut down the hassle of the trip so make sure you've got your equipment, your ski passes, lessons booked and your ski insurance long before your actual departure date. This may seem obvious but it's so, so easy to leave it to the last minute and put added stress on yourself and your family.
Finally a few tips for when you're there. Firstly it's really easy to forget that the younger members of your family might get tired out on the slopes and will need to head home early for some rest. Whilst this can be a nuisance year in and year out children end up ill from exhaustion and stress so if they want a rest let them have it. Secondly always remember sun glasses and sun cream – a burnt family is not normally a particularly happy one! Last of all remember to try and relax and have lots of fun!