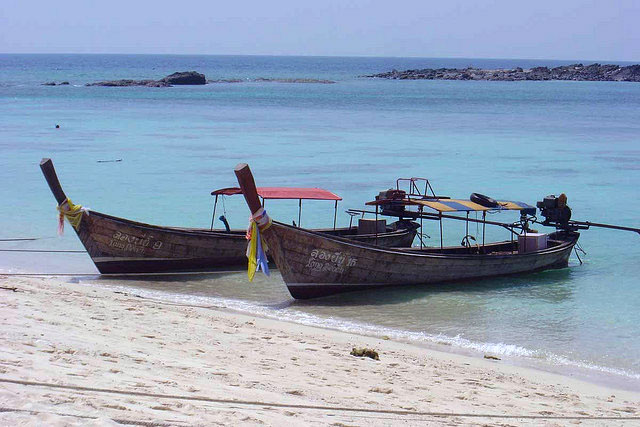 Flights to Thailand whisk visitors to a magical, tropical destination with great history, beautiful sights and accessible attractions. Here are a few things every tourist should do while visiting this amazing destination.
Go Shopping
Bangkok has outstanding shopping spots that will impress the most discerning customer. The enormous MBK shopping center houses more than 2,000 stores spread across eight floors. The city's Chatuchak Weekend Market has 8,000 unique vendors.
Visit Phuket Island
Phuket is Thailand's largest island. This picturesque destination is home to the beautiful Patong Beach. Visitors can check out many scenic landmarks and panoramic lookouts while touring the island.
Enjoy a Traditional Thai Massage
Luxury spas are a recent phenomenon in Thailand, but their traditional massage techniques have been used for thousands of years. Thai massages are designed to relax and rejuvenate the body by allowing energy to pass through invisible meridians and nerve points.
Go SCUBA Diving or Snorkeling
Every beach can be explored with a snorkel in Thailand. Certified SCUBA divers can tour unspoiled coral reefs in the Ang Thong National Marine Park. The waters off Ko Samui, Ko Lipe and the Similan Islands have many world-class diving sites.
Try Authentic Thai Food
From multi-course banquets to simple street food, Thailand has a diverse gastronomic culture. Enjoy traditional fried noodles, delicious curries, seafood delicacies and fruit-flavored desserts that are prepared on demand.
Tour an Ancient Temple
The ancient capitals of Thailand and many small villages are home to outstanding temple sites, which are called wats. Tourists who wish to explore the country's culture and history must visit the ancient capital of Ayutthaya and the ruins of Sukhothai.
Photograph a Tropical Waterfall
Thailand's slow-moving rivers and tropical streams produce many graceful waterfalls. Erawan Falls near the River Kwai are the most beautiful and most visited in Thailand. Other popular multi-tiered waterfalls include the Pala-U Waterfalls in Kaeng Krachan National Park and the Heo Suwat Waterfall in the ecologically diverse Khao Yai National Park.
Relax on a Beautiful Beach
White sand beaches dominate the coast of Phuket and the Gulf of Siam. Phuket's Patong Beach is one of the most popular, but beautiful beaches are found along the coasts of the mainland as well. Every month, the popular island of Koh Pha Ngan hosts a moonlight party at Haad Rin beach during the full moon.
Explore Phang Nga Bay
This scenic bay separates the mainland from Phuket and dozens of coastal islands. Visitors will pass by mangrove forests, grottoes and towering rock formations as they tour the bay by boat or by kayak.
Visit a Wildlife Sanctuary
The Thungyai Naresuan Wildlife Sanctuary and the neighboring Huai Kha Khaeng Wildlife Sanctuary are revered for their unspoiled natural habitats that make them the ideal places to see many rare animals, including rhinos, elephants and leopards. These parks are home to 40 reptile species, 100 types of fish, nearly 500 tropical bird species and approximately 150 rare and endangered animals.
There is so much to see and do in Thailand that 60 percent of the island's tourists are repeat visitors. Cheap flights to Thailand are a great way to travel to this beautiful, tropical destination on a budget.