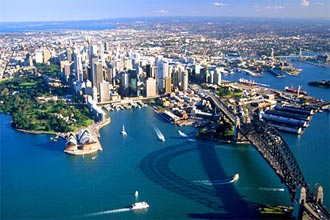 So, school is done. You've put down your textbooks, pens and pencils, and you're trying to figure out what tools you need to take you into the next phase of your journey. Well, the truth is that the best tool you'll ever have is EXPERIENCE. And what's a better way to gain experience than by taking a gap year? It provides an opportunity to go somewhere where you can work and play as hard as you can, as well as broaden your mind and that ever important resume. With that in mind, here's my pick of three sabbatical destinations that have it all – parties, culture and great working opportunities.
SYDNEY, AUSTRALIA
This city of sunshine, good times and friendly locals is fast becoming THE place to go for working holidays. Full of affordable youth hostels, great nightclubs and informal working environments, you're sure to find a place to fit right in. There are numerous youth travel organisations in the UK that offer Aussie Gap Year packages, complete with orientations and pre-organised job interviews. If you're a first time traveller, we highly recommend this gap year option.
WHISTLER, CANADA
Ah, the white slopes of the Great North, fresh air, warm fires and lots and lots of skiing. A popular choice for many students, working at Canadian ski resorts is a great way to make money, and it comes with plenty of downtime too – which you can spend on the slopes or even in the bustling city of Toronto. With a great music, art and cuisine scene, this destination is not to be missed by big city loving student travellers.
GIANT PANDA CONSERVATION VOLUNTEERS, BEJING, CHINA
Spend part of your gap year making a difference in China through this one of a kind programme. You'll be working closely with these endangered pandas and panda keepers and will even have the opportunity to teach English at a nearby primary school. Your weekends will be entirely free, so you'll be able to visit some incredible cultural sites, including the Terracotta army museum. Immerse yourself in the local culture through various festivals and try your hand at a little karaoke at one of the city's many karaoke bars. This kind of volunteer programme looks great on your CV too.
Remember: Any gappie adventurer needs to be prepared for anything, so it's a good idea to purchase gap year travel insurance. That way you're covered for any journey mishaps that may occur along the way.