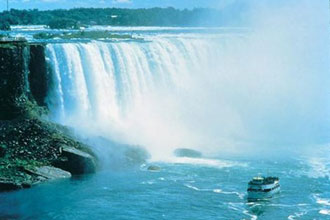 As a country, the United States of America is indeed vast enough to account for varying climatic conditions in its different parts which is why newly weds opting to celebrate their honeymoon here have plenty of choices. It is only in USA that couples can enjoy the tropical sunshine, undertake adventurous activities and experience the glamour within the same country during their honeymoon. While a few days in the southern states would expose them to the warmth of the sun and varied aquatic activities, a spell in the hilly state of Tennessee would be replete with nature hikes and places like New York and Hollywood would account for the glamorous touch.
In America, the following are some of the most popular honeymoon destinations are listed as follows:

Niagara Falls – Shared by the neighboring countries of USA and Canada, Niagara Falls are one of the most spectacular works of nature and are ideal for spending a memorable honeymoon. Comfortable facilities at affordable prices being available around them, staying around this venue is also a good idea for couples not to mention the fact that the pulsating city of New York is not very far. A day trip to the city to gape at the Statue of Liberty, dine at the finest restaurants, enjoy theatre and squander time and money in shopping must definitely be a part of the itinerary.
Hawaii – If eclectic is the objective of the honeymoon then there can be no better place than Hawaii. Opting for a vacation here is like a dream honeymoon with sandy beaches, azure waters and endless natural wonders to appreciate. Privacy is obviously facilitated in world-class hotels but couples seeking more natural surroundings can discover hidden coves dotting the coastline and make one of them their private haven. A trip to Hawaii would be incomplete without sampling its diverse and delicious cuisine not to mention the myriad activities which can be indulged into.
Las Vegas – Although famous for gambling, this city is perfect for those honeymoon couples who wish to have a vibrant and lively honeymoon. Aptly termed as the 'Sin City', a trip to Las Vegas would feature different casinos, a lot of wealth, shopping plazas and local attractions.
California – Home to world renowned cities like San Francisco, Los Angeles, Sacramento and many more, the state of California on the west coast of USA has something for everyone. From beckoning beaches to nature trails leading through the mountains, a honeymoon here could be as eventful as can be imagined not to mention the fact that there are plenty of spas for rejuvenating and recovering as well.
Florida – It is in this state that couples can opt for a Disneyland package and relive all their childhood fantasies for this theme park offers exclusive rates for newly weds. While Miami boasts of some of the best beaches in the world, Daytona and Cape Kennedy are ideal for action oriented couples and the attractions within the cities provide a deep insight on the state's history and culture.