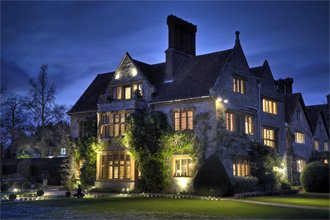 The UK boasts so many options for a romantic weekend, it can be hard to choose. Stroll hand-in-hand on cobbled streets beneath overhanging Tudor galleries, feast together on the finest of food in a grand Manor in Oxfordshire, or share a rickshaw through the brightly lit streets of Soho: special memories to last a lifetime are just waiting to be made.
Best for foodies
There's nothing like top quality cuisine and fine vintage wine to fan the flames of romance. The Manoir Aux Quat' Saisons is a gorgeously tranquil manor house set in 17th century walled gardens in which an array of organic ingredients is nurtured especially for your plate. Multi-Michelin-starred chef Raymond Blanc anticipates your every wish, creating a gastronomic experience to be savoured at each turn. Wines are expertly matched with the food, and there is a choice of dining rooms, from the formal to the more relaxed patio with garden views. And, if you need to sleep off you foodie indulgences they have several cosy rooms in the main house available for guests. The surrounding Oxfordshire countryside offers theatre-going and shopping, horse-riding and fishing. Le Manoir is unsurprisingly very popular and hotel deals in UK food hotspots like this one get snapped up quickly. So plan well ahead if it's for a special anniversary
Best for culture creatures
London is a romantic city in all seasons, whether you're taking in the artistry of Turner at the Tate, or rustling a bag of roasted chestnuts by the Thames. For thrills, try a high-speed boat tour on the river, where you'll be especially pleased to have someone to hold on to. Boats leave at a pier next to the London Eye, and take in all the sights along the river. Afterwards you can relax in a private champagne capsule on the London Eye, or just hold hands and stroll up Parliament Hill on Hampstead Heath, which is free and offers an equally stunning vista. Later, seek out sultry saxophone sounds in Soho, where venues such as Ronnie Scott's and Jazz After Dark offer casual but chic spaces to melt away by candlelight, and are surrounded by livelier entertainments should you still seek to party the night away. The ultimate way to get back to your hotel has to be a rickshaw ride through the capital's brightly-lit historic streets.
Best for outdoors
There's no need to "wander lonely as a cloud" to stumble across a host of golden daffodils, buttercups and forget-me-nots. The Lake District offers some of Britain's quaintest lakeside spots alongside its grandest valley views. But this wonderfully picturesque part of the UK also offers some of the greatest walks and scrambles in the country. Try the Langdale valley, where you can climb Crinkle Crags and Bowfell, offering views of all the giant fells in the Lake District. You can sample a glass of ale or fine scotch at the Hiker's Pub at the Old Dungeon Ghyll after your walk. And there's no need to sacrifice comfort for camping either. The latest 'glamping' offering from Long Valley Yurts will keep everybody cosy and warm: the local site offers sheeps' wool-insulated yurts with Moroccan rugs and lanterns, and comfortable beds of course.
This post was written on behalf of Marriott Hotels