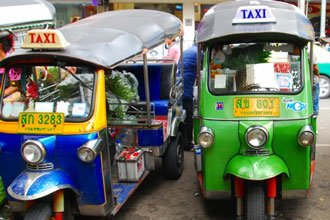 The colourful, lively city of Bangkok is a firm favourite with travellers wanting to jet off out of their comfort zone and experience something completely new. The contrast between modern technology and mystical tradition is evident on the streets of Bangkok, with flashy cars weaving in and out between rickety Tuk-tuks on the roads, and huge Western-style malls standing alongside back-alley markets where haggling is a must. In this bustling metropolis, unexpected and delightful attractions can be discovered around every corner, and whether you want to explore ancient Buddhist temples, shop 'til you drop, or enjoy the diverse nightlife of city, there is something for everyone.
One of the best known landmarks of Thailand, and indeed South East Asia, is Wat Arun, or the Temple of Dawn. Visitors can enjoy the silhouette of the spectacular icon from across the river or visit the historic temple, which is surrounded by tranquil gardens where Buddhist monks can often be spotted. Tourists are able to walk some way up the attraction for a better look at its intricate porcelain architecture.
The reclining Buddha is another must-see for anyone interested in Buddhist history. Wat Pho, the picturesque grounds in which the famous icon is situated, holds more than 1,000 Buddha images – the highest in the whole of Thailand – but visitors setting eyes upon the reclining Buddha will be blown away by the sheer scale of the statue. The breathtaking icon measures 46 metres long and 15 metres high, and is intended to show Buddha passing into nirvana. After a day taking in the sights of Bangkok, Wat Pho is a fantastic place to experience a traditional Thai massage. The rich and powerful have all come to Wat Pho in search of a relaxing massage – as it is the centre for traditional Thai massage you are unlikely to get a better one elsewhere!
When envisioning a holiday to Thailand, many travellers will no doubt have a trip to the city's charming floating markets in mind. There are plenty of different markets to choose from, and although they tend to cater more to tourists than locals these days, they are still well worth a visit. Those who want to enjoy the exotic atmosphere of the colourful floating markets should opt for a guided boat tour.
Thailand is becoming a popular tourist destination with slightly mature traveller, maybe owing to its natural mystique and beautiful scenery. Although not the most fun part of organising your trip, travel insurance is a must – especially when undertaking long-haul flights. Make sure that your travel insurance covers you for everything you need without costing a small fortune; for example, Staysure over 65s travel insurance caters for those active mature travellers and also includes many pre-existing medical conditions free of charge.
Anyone who has visited Bangkok will confirm that the street markets are a huge part of the experience. Many of the streets of Bangkok are lined with stalls, and visitors walking around the Thai capital will often come across both day and night markets. Traders at the major Bangkok markets predominantly sell bootleg designer products and clothing, with many of them offering the same products. However, look closely and these markets can provide a treasure trove of Thai souvenirs. Tie-dye clothing, handmade jewellery and ornaments can all be bought extremely cheaply, as long as you are not afraid to haggle. One shopping experience every tourist should see is the Chatuchak Weekend Market, which encompasses more than 8,000 market stalls and is said to sell almost everything you could think of.
Getting around from attraction to attraction can be an experience in itself, with trains, taxis and tuk-tuks to choose from. The most exciting option is undoubtedly the traditional tuk-tuks, and if you haggle – they can also be the cheapest. Often decorated with colourful lights, and complete with a grumpy driver, visitors to Thailand should experience a break-neck ride in one of these unique vehicles at least once.