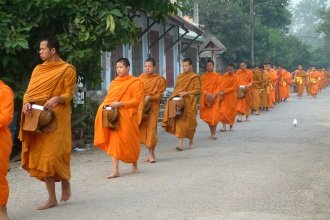 During their time in Indochina the French came about a saying that still resonates today. "The Vietnamese grow the rice, the Cambodians watch the rice grow, and the Lao people listen to the rice grow." Laos retains a laid back charm that has almost disappeared from modern day Vietnam. Planning an innovative holiday in Vietnam and Laos is the perfect way to get a real insight into the contrasts of Asia.
Planning what to see is a matter of pure taste. However, if you've a couple of weeks to utilise and you're looking culture then try this.
Laos – Luang Prabang and the Mekong:
The most salient of Laos' destinations is Luang Prabang. A charming town isolated in the hills of central Laos, Luang Prabang is a beautiful fusion of French colonial charm, Laotian culture and Bhuddist heritage. Indeed, with a vibrant practising Bhuddist community rising early you'll be treated to the sight of the Monks walking barefoot through the streets collecting alms from towns' locals. Luang Prabang also has some great night markets, delectable dining options and coffee shops serving Laos' famously rich coffee and French-inspired baked goods!
From Luang Prabang you can take a 5 hour drive and see the limestone casks of Vang Vien, take a 45 minute flight to Vientiane – Laos' business hub, such as it is – which is idyllically set by the banks of the Mekong. For those with plenty of time then get yourself down to southern Laos. Here you can visit sweeping coffee plantations of the Bolivean Plateau or venture down to the 4,000 Islands where the Mekong breaks into hundreds of tributaries across Laos' plains.
Throughout you'll encounter hospitable, proud and carefree people who contradict the "tiger" side of developing Asia.
Vietnam – Saigon, Hanoi, Hoi An & Halong Bay:
In Saigon you'll find streets heaving with mopeds, shops of every description alongside history and culture. Shop till you drop at the famous Ben Thanh Market or at the many boutiques before hitting the iconic Reunification Palace, informative War Remnants Museum which depicts Vietnam's modern history before dining at some of Asia's best restaurants.
A 1 hour flight and 1 hour drive later you'll arrive in the UNESCO protected port town of Hoi An. Charming in every sense word you'll find cosy coffee houses, world famous tailors and narrow streets resplendent with French colonial, Japanese, Chinese and Vietnamese architecture. All set aside the calming waters of the river Thu Bon.
Next up is Hanoi. Flying to Hanoi from Hoi An takes around 1 hour 15 mins from Danang airport. Here you'll be greeted by the beautiful old quarter, get to take in the daily life of locals by Hoan Kiem lake, explore Ho Chi Minh's Mausoleum and take the three hour drive out to the UNESCO protected Halong Bay.
Getting about:
Contrary to perception, regional airports do not double up as subsistence farmland! Flying from Hanoi (in Vietnam's north) to Laos' capital Vientiane will take around 1hr and from Saigon (in Vietnam's south) will take around 1 hour 30 mins. Return flights can be booked from around $100 each way. Flying will save you precious time and the hassles associated with long road trips.