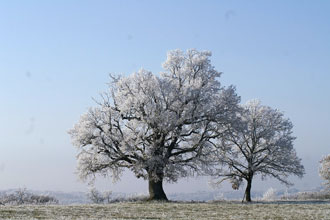 Many people travelling towho choose France for their annual holiday will make the trip during the summer when there's a good chance of pleasant weather and plenty to see and do in the sunshine. But France can also be a great holiday destination during the colder months when you can enjoy winter sports, get into the Christmas spirit, or escape the UK's brisk chills. What's more, there are fewer tourists around during the winter and finding cheap holiday deals is a breeze.
Here, we take a look at 4 of the best place to visit in France during the winter.
Paris
You won't get much respite from the cold, rainy days of England, but there is a certain air of romance and magic about Paris during the winter. As the festivities get under way for Christmas, the city comes to life in a flurry of lights, seasonal events and traditional markets. Spend your days exploring the city, which is far less crowded than during the summer months, before warming yourself with a delicious coffee in a cosy Parisian cafe.
Nice
The capital of the French Riviera, Nice is cosmopolitan, cultured and the perfect antidote to wintertime blues. Home to over 300 days of sunshine a year, the jewel of the Cote d'Azor has become increasingly popular amongst tourists who come to enjoy the distinct cuisine, beautiful beach and seafront attractions. When you're not sipping a cocktail on the promenade, meander through the cities historical streets and marvel at the ancient Roman city of Cemenelum.
Strasbourg
Perched on the border of France and Germany, Strasbourg offers an interesting blend of both cultures. Strasbourg is considered to be the intellectual and cultural capital of Alsace and is also home to a 431 year old Christmas Market, the oldest and largest of its kind in France. From the end of November to Christmas Eve the city is taken over by seasonal stalls selling all manners of crafts, fantastic food and hot mulled wine.
Alps
France is a winter sports haven thanks to the excellent skiing opportunities in the Alps and the Pyrenees. There are many world class ski resorts to be found here, offering facilities for people of all abilities. Flaine is the best destination for a family friendly ski holiday, whilst Meribel is ideal for those looking to let down their hair with drinking and dancing after a day on the slopes.
Photo credit: mpix