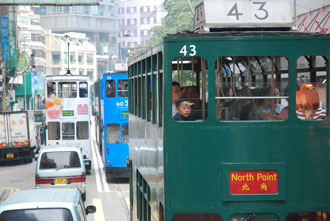 In overcrowded Hong Kong effective communication is key in every day life. You can find there buses, taxis, trains, most types of cars, bikes and motorbikes, as well as wooden double decker… trams!
Hong Kong Tramways is one of the three tramways in the world that have regular operation of double-decker trams (the others being Blackpool in England and Alexandria in Egypt), and is the only system that runs exclusively on double-deckers. 240,000 residents commute by tram every day. Serving from 1904, it is one of the earliest forms of public transport in Hong Kong.
Those trams are one of the quickest ways of transport as wall as are unique tourist attraction, that's why you shouldn't miss it once you visit Hong Kong.