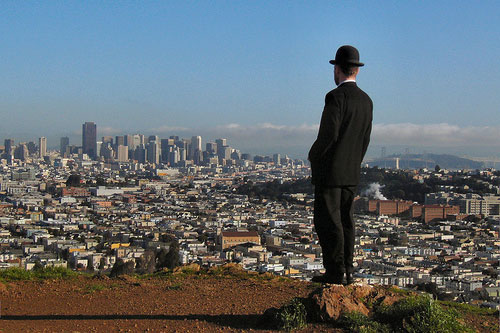 Top 5 San Francisco Sites: A Local's Perspective
I've lived around San Francisco for over 20 years (see Alex's SF pics here), and worked as an SF tour guide on two occasions. While guidebooks mention obvious spots like the Golden Gate Bridge and Pier 39, I'm amazed at how many truly awesome aspects of San Francisco fall between the cracks. So here are my top 5 things to see/do in San Francisco:
Sunset cruise from pier 39. While the pier itself is tourist trap (over half the shops are chains found from San Antonio to Sydney), a sunset cruise of the bay is without a doubt one of San Francisco's greatest attractions. There are a number of operators; as a tour guide I always recommended the Adventure Cat's sunset cruise ($50 for 1.5 hour cruise; light hors d'oeuvres and two complimentary drinks).
Pac Bell Park. Without a doubt, baseball is a tremendous part of America's cultural heritage. And frankly , there isn't a better ballpark in the country. While not as historic as Wrigley Field in Chicago or Yankee Stadium in New York, San Francisco's Pac Bell park continuously wins awards as the most beautiful. Seats range from $15 – $300 for behind home plate.
Legion of Honor Art Museum. This is easily the most beautiful museum in San Francisco, and also one of the best views in the city. The Legion of Honor features European paintings and ancient Egyptian artifacts (plus several exhibitions, check their site for updates). Admission is usually $10, but it's free the first Tuesday of each month.
Alcatraz: Yes, this one is a popular tourist spot, but this former prison is worth it. The ferry ride out provides startling views of the city skyline, and arriving on Alcatraz feels like stepping back in time. You can stroll around the island (and inside the prison) on your own, take a guided tour, or (my recommendation) purchase headphones for an audio tour. The actors' voices of each character really brings history alive.
Walking the Presidio. The Presidio acted as an army barracks for three different countries over 218 years. Now its historic buildings stand amidst tall eucalyptus trees, rolling hills and footpaths leading to the ocean (or bay, depending on which direction you head). After your walk, head to either Nob Hill (classy) or the Haight district (bohemian) for some of San Francisco's best food.
Bonus Suggestion: If you have an extra day, visit Sausalito. It's a picture-perfect town just north of San Francisco, with plenty of art, food, wine, and shopping to keep you busy. You can either take a bus there or hop on a ferry (which I recommend; they don't call it "the city by the bay" for nothing).
Bernal Heights Park photo courtesy of Striatic