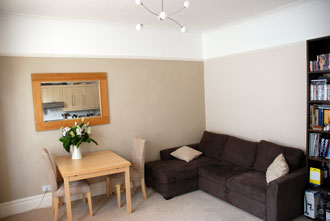 Do you want to rent my flat? My furnished 1 bedroom flat in Hove with communal parking is now up for rent. I have decided to move to Sydney, so as from the 13th March my flat is available.
It's in a perfect location, on the border between Brighton and Hove, 4 minutes to the beach, 5 minutes to Waitrose, 3 minutes to Tesco and 15 minutes to Brighton Station. Kitchen is complete with cooker, washer/dryer, separate fridge & freezer.
You can see more details on the Rightmove website:
http://www.rightmove.co.uk/property-to-rent/property-21110962.html and Gumtree.
Very bright open plan living room, traditional sash windows. L-Shaped sofa bed. Very large bedroom, with massive fitted wardrobes. The bathroom has an awesome illuminated mirror cabinet not shown and a powerful thermostatic controlled shower. Click on photos to enlarge.