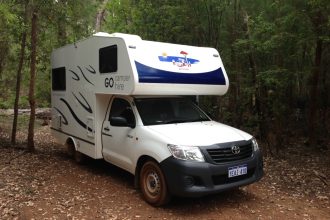 Our Christmas road trip came close to not happening at all, 4hrs on the phone and 22 emails later we managed to get hold of a motor home. Then a call from Gocamper to tell us they hadn't actually got the one which we had reserved as they didn't realise when making our booking that the people who had 'our' camper had extended their hire. Anyway they managed to get us a replacement vehicle which did the job very well. Note for self: Do not try and book 3 weeks before Christmas, book 3 months in advance the same as everyone else.
We flew to Perth from Sydney and then took public transport down to Rockingham where we picked up our camper van  Getting the camper van from the outskirts of the city saved quite a bit of money, and was more than worth the additional hour journey to collect the van.
We had decided to drive the lower left hand corner of Western Australia as we only had two weeks, and this would allow us to fit in the main tourist spots. We made our way south from Perth following the coast all the way around to Esperance, where we then went north to visit the mining town of Kalgoorlie before heading west back to where we started. From Perth we travelled north to Monkey Mia and back again to spend the last two days in Perth, one day in the city the other on Rottnest Island.
Our two week itinerary:
Freemantle
'Freo' as it's known to the locals is situated at the mouth of the Swan River about 20km from Perth but has a completely different atmosphere. More relaxed, easy going, friendly atmosphere an overhaul far nicer than Perth. It is without a doubt one of the 'must sees' whilst around Perth.
Freemantle is home to many historic colonial buildings, museums, galleries, pubs and cafés.
Fremantle's Harbour serves as the port of Perth, and was first settled in 1829, and declared a city in 1929. The city is named after Captain Charles Howe Fremantle, the English naval officer who had pronounced possession of Western Australia and who established a camp at the site.
Little Creatures brewery
Freemantle gaol
Batavia wreck
Albany
There really isn't much to do in Albany apart from seeing the Lighthouse where the Indian and Southern Ocean meet.
Albany was established shortly before Perth in 1826, the oldest European settlement in Western Australia. It's an ex whaling town which has seen plenty of violence on its pristine beaches. The whaling industry is still part of the Albany experience, but luckily these days through a camera lens rather than a harpoon.
Pemberton
A very small little town, situated within the heart of the surrounding Karri forests and Gloucester National Park which is home to the famous fire lookout trees. 5 national parks are within a 20 minute drive from the town.
In 1913 the government setup two sawmills which supplied half a million railway sleepers for the Trans-Australian Railway. Saw-milling is the most active industry in employing ~15% of the town despite the government's drastic reduction in old growth logging in 2003. Rather than close down, Pemberton's mill has switched to plantation Tasmanian blue gum and pine in addition to the karri trees.
Dave Evans lookout tree
Pemberton Tramway Company
Esperance
Esperance is the beach lover's dream, impeccably clean beaches, bright blue water and untouched islands. It's located on WA's southeast coast about 725km from Perth. Set amongst the picturesque islands of the Recherche Archipelago and the amazing cliffs of the Great Australian Bight. Blue Bay beach is the most incredible beach I've seen, not far from here is the Pink Lake which can contain bright Pink water due to the algae.
Surprising amounts to do, four wheel drive beach safaris, abseiling, sand boarding, kayaking, cultural tours, helicopter flights, island cruises, diving and fishing charters and steam train rides.
Check out the local museum to see what remained of the NASA Skylab after it fell back down to Earth near Balladonia. Leaving Esperance on the way to Cape Le Grand, you'll even come cross a full-size replica of Stonehenge.
Kalgoorlie
Kalgoorlie, Kal as it's known to the locals, is the state's second-largest town, wide streets and well-preserved historic buildings. The most productive of all WA's gold towns, today it's still the centre for mining. There are mines all around and BHP have an open Super Pit with a viewing lookout which is certainly worth a look. Head to lake Ballard to see the sculptures in the salt lake, and of course you can't leave Kal without doing the brothel tour in Australia's oldest working brothel.
Most of the bars have 'skimpies' where the female staff serve beer in their underwear, and like clockwork the 'titty kitty' comes around where the girls come asking for donations. From underwear to bikinis to topless.
Exchange hotel – Skimpies
Super pit
Salt lake
Mining Museum
Questa casa – Brothel
Hyden
Hyden is a pretty unknown town, but is home to one of Australia's most famous landforms, Wave Rock, a giant surf wave of granite which looks like it's about to crash onto the ground below. It was formed way before dinosaurs roamed the earth over 2,700 million years ago. Mulka's cave a short drive away contains the oldest Aboriginal artwork, the myth of Mulka was an outlaw, printed his handprints all over the roof of the cave.
Lancelin
Lancelin, is possibly the windiest place on Earth, hence why it is home to surf and windsurfing enthusiasts. The rolling sand dunes are a fascinating site and you'd think you were in the Sahara. Between Lancelin and the town of Cervantes is home to Nambung National Park which has thousands of limestone formations known as the Pinnacles. Make sure you visit these just before sunset for the best viewing. Lancelin is only an hour north of Perth and many come north for long weekends camping. There is no free camping anywhere so make sure you book a site in advance.
Geraldton
Ultimately another generic seaside holiday town, but with a red candy like striped lighthouse which is worth the visit just for a photo. There's nothing to do here apart from a nice quick stop for a coffee, and a quick wander along the windswept beaches.
Shark bay
Shark Bay is a 2.2 million hectare World Heritage Site, home to an amazing array of animals and plants, many found nowhere else on Earth. The bay covers an area of over 10,000km², having an average depth of only 10m, Dugongs and Dolphins and many sharks are easily seen from the shore, take a trip on one of the catamaran cruises to see the best of the wildlife.
Shark Bay is home to stromatolites, rock like structures built by single-celled cyanobacteria. These stromatolites are similar to life first found on Earth up to 3.5 billion years ago which produced the first of the Earth's oxygen! For over 2.9 billion years cyanobacteria were the only life on Earth. Their ability to respire oxygen modified Earth's atmosphere, emerged from the sea and colonised land. These 'living fossils' provide us a unique insight into the evolution of Earth's biosphere and the history of life on Earth.
Monkey Mia is famous for its dolphins, most mornings for over 40 years wild bottlenose dolphins swim to shore to interact with people who hand feed them.
Stromatolites
Shell beach
Hamelin telegraph
Monkey Mia
Perth
Perth is the world's most isolated city, WA's capital and the 4th biggest city in Australia, with a population of ~1.83 million. It has a laid back and easy going atmosphere, but there's not much to do in the city, as with all beach towns surfing, sailing, and swimming are the norm. Spend a day cycling, swimming, paddle-boarding on Rottnest Island and then take a drive the local wineries around the Margret River region.
Rottnest Island
Margaret river
Freemantle
Arriving back in Perth was the end of our road trip and was an amazing experience and we learned a lot. West Australia is fantastic for being campervan/motorhome friendly, our last two nights were spent in a hotel, we stayed in the Rydges cnr of Hay and King, they have an awesome steak house too. Out of the city, in most towns there are numerous safe places for free camping and private camp grounds, even out in the sticks the local road houses even provide small units for accommodation.
Our 6 Top Motorhome Tips
Water – You don't need to stay in a campsite to refill your motorhome with water. Most petrol station forecourts have drinkable water taps which can be used. In most of the out of town road houses they use bore water, it's drinkable but far from your normal tap water.
Tissues – Also whilst at the petrol station grab a load of the free tissues which are used for wiping up spills. These are a great alternative to tea towels and saving the hassle of drying them and generally dry dishes better.
Charging – If you're going to be driving 3-4 hours this is normally enough to fully charge your second battery. If you're planning on driving a long distance with short stop overs you really don't need to stay in a camp site.
RV dump points – There are many council managed dump points which save you again from having to stay in camp sites. Check out http://www.toiletmap.gov.au/ to find nearby dump points, many of which have drinkable water too.
Packing – No suitcases! Use soft bags, duffle bags are great as they can be squashed/folded to fit easily in the inbuilt storage. Once you've finished packing go back through it and ensure you only have half of what you started with. Plan to wear your clothes twice where possible and find a laundrette as storage space is always very limited.
Food – Remove food (which isn't easily damaged) from packaging to save cupboard space and ensure that you get rid of your rubbish as soon as possible. You really don't want to be encouraging the flies to come and visit.