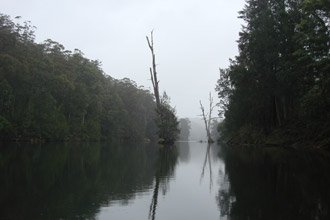 The Kangaroo River is situated predominately in the Kangaroo Valley which is approximately a two hour drive south of Sydney in the Southern Highlands, Kangaroo Valley features over 80km of the Shoalhaven and Kangaroo rivers.
We hired two Kayaks, well in the northern hemisphere they are called Canoes, don't ask me why but in Australia Kayaks. In fact they have both Canoes and Kayaks the wrong way round. So we hired two Kayaks from Kangaroo Valley Escapes for our very own self guided trip down the river.
We started from Hampden Bridge and finished about 5km downstream at Bendeela, it took a little over 2 hours. I would have liked to have kept on going but the cold and wetness of my hands was getting to me. Next time don't let anyone talk you out of taking your waterproof jacket!
The kayak down the river was amazing, having some interesting conversation over how far Bull Sharks can swim up rivers and how far south crocodiles can go. Probably not the typical conversation whilst in a small plastic vessel.
We didn't get to see much wildlife, most likely, as a group of cub scouts an hour previously kayaked the same area and scared it all off. But we did get to see quite a few Australian Water Dragons which looked amazing perched on the rocks.
I also was very lucky to have a Lyrebird copying me whistling, it's amazing how they can imitate other noises. It's not uncommon for them to make chainsaw noises. There is a great video on Youtube thanks to the BBC.